Free, safe, professional transportation

available for our patients
We are offering patients free, professional transportation to and from their clinic appointments during the COVID-19 pandemic.
Transportation is provided by GroundLink, an established car service company. Drivers are experienced and licensed and will wear a mask and medical-grade gloves when transporting patients. Vehicles are professionally cleaned and disinfected before and after each trip.
Our office staff can schedule transportation for patients 24 hours in advance of appointments; patients cannot request the service directly from GroundLink.
For complete details, talk with our office staff.
Funding for this free service is being provided by the Community Oncology Alliance (COA) and CancerCare to help support patients at this time. We hope you enjoy your ride!
Service may not be available in all areas.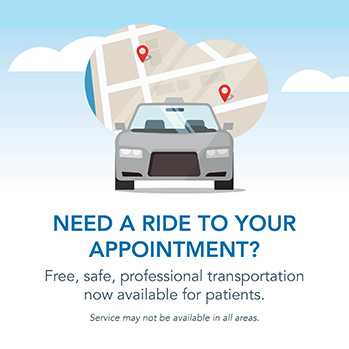 FAQs: What you need to know
How do I know if I qualify? Do I need to apply for this service?
This transportation service is available for all of our patients at no cost to you or to your health insurance company. There is no application required; simply ask a staff member to request it for you at least 24 hours before your appointment.
How many times can I request ride service?
There is no limit to the number of trips a patient can request and there are no mileage limits.
I have difficulty walking; will the driver assist me?
Yes, drivers and vehicles can accommodate patients who use wheelchairs, walkers or other mobility devices. At pick-up, drivers will assist you, if needed, from the exterior door of your residence or our clinic into the vehicle and, at drop-off, from the vehicle to the exterior entrance of your residence. They cannot accompany you inside any buildings.
One additional passenger, such as a caregiver approved to accompany you to your appointment per our current visitor guidelines, may ride with you.
Will the driver make other stops along the way?
Drivers will only transport one patient per trip, and the service may only be used to and from our location. Drivers are not permitted to make additional stops (such as to pharmacy or grocery store).
Does the driver wait for me while I am at my appointment? What happens if my treatment takes longer than expected?
A driver will be assigned to transport you at the end of your scheduled appointment. If the appointment completes early or will end later than scheduled, or needs to be rescheduled, please advise your provider and a member of the office staff will contact GroundLink.
Am I expected to tip the driver?
Drivers are permitted to accept tips, but tipping is not expected nor required.